Why CPC?
The EPO and USPTO both had highly developed patent classification systems, the European CLAssification (ECLA) and the United States Patent Classification (USPC) respectively. CPC is the outcome of an ambitious harmonization effort to bring the best practices from each Office together. In fact, most U.S. patent documents are already classified in ECLA. The conversion from ECLA to CPC at the EPO will ensure IPC compliance and eliminate the need for the EPO to classify U.S. patent documents. At the USPTO, the conversion will provide an up-to date classification system that is internationally compatible.
What is CPC?
The Cooperative Patent Classification (CPC) was initiated as a joint partnership between the USPTO and the EPO where the Offices have agreed to harmonize their existing classification systems (ECLA and USPC, respectively) and migrate towards a common classification scheme. This was a strategic decision by both offices and is seen as an important step towards advancing harmonization efforts currently being undertaken through the IP5's Working Group 1 on Classification.
The migration to CPC was developed based in large part on the existing European Classification System (ECLA) modified to ensure compliance with the International Patent Classification system (IPC) standards administered by the World Intellectual Property Organization (WIPO).
How was CPC initiated?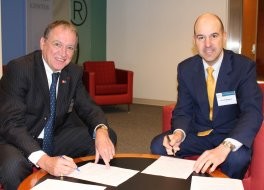 On 25 October 2010, the Under Secretary of Commerce for Intellectual Property and Director of the USPTO, Mr David Kappos, and the President of the EPO, Mr Benoît Battistelli, agreed on the following joint statement:
"In view of the significant benefit to stakeholders of developing a transparent and harmonized approach to a global classification system for patent documents; in order to make the search process more effective; and in the belief that cooperation between their two offices will facilitate progress in undertaking classification harmonization projects under the IP5 Common Hybrid Classification initiative, the USPTO and the EPO have agreed together to work toward the formation of a partnership to explore the development of a joint classification system based on the European Classification system (ECLA) that will incorporate the best classification practices of the two offices. This system would be aligned with the World Intellectual Property Organization (WIPO) classification standards and the International Patent Classification (IPC) structure. Accordingly, they have initiated discussions on governance and operational aspects of such a partnership.
The IP5 partner offices will be continually apprised of progress at appropriate IP5 forums. Stakeholders will receive regular updates on the substance and progress of classification partnership discussions between the two offices."
Following this announcement, the EPO and the USPTO started to work together to develop a new classification system which is now known as the Cooperative Patent Classification (CPC). A joint USPTO/EPO implementation group, known as the CPC IG, has been set up to oversee its creation and implementation.